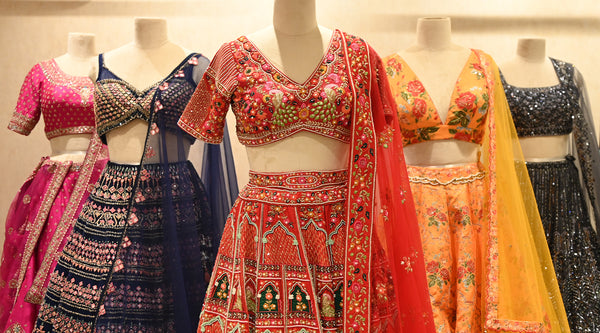 5 Stunning Lehenga for Bridal Soiree!
The self-assurance gained from feeling good in what you wear and feeling like yourself is priceless. You are unique, and your clothes should reflect that. Discover the exquisite range of artisanal and signature lehengas from singhanias that will make you fall in love all over again, where we pamper you with India's finest attires. We aim to assure you with our best choices of handcrafted lehengas, curated for everyone who loves to flaunt the sophisticated look. Add a touch of panache to your wardrobe with our grand and exquisite top-notch designer lehengas, which are very unique in their way relying upon the styles of cuts and Kallis, floral, and brocades that are created to perfection. With our enchanting creation that blends tradition with modernity, from the sassy and contemporary to heritage riches - there's something for everyone. We hope you, by now, have fallen for our lehenga collection of SINGHANIAS.
No special occasion or event is complete without the lehenga, every girl loves to adorn and flaunt it as it is always the right choice no matter what the occasion is. Be it a cocktail party, Haldi ceremony, or your big D-day, we have got you all covered up. When it comes to picking a perfect lehenga, just take a back seat and let us present to you our curated masterpieces for your wardrobe.
 #1 - PERFECT PICK FOR ENGAGEMENT
Is it possible to not fall for this stunning shade of lehenga with delicate mirror and sequin detailing? Definitely, not for us! Seize all the attention and let all eyes gaze on you and your beautiful engagement lehenga we found to be perfect for your engagement with the serene color of love that has a special place in our wardrobe, for the charm of pink remains unmatched.
#2 - PINK - BRING OUT THE PLAYFULNESS ON YOUR SANGEET
Are you looking for a Hassle-free, stylish lehenga? Then we bought you our curated pink lehenga. Be sassy but still look classy by flaunting yourself in this pretty floral and sequins embroidery work lehenga that has completely won us over. Dazzle the stage by bringing out the playfulness as pink color is the most favored one among the bride-to-be, and we do not doubt why. This gorgeous one surely makes our list of trendy engagement dresses for brides.
 #3 - THE CLASSIC RED FOR YOUR D-DAY
Too much minimal is not your thing? No worries we have got you! Add some vibrant hues of red to your D-day look so that you add charm to your bridal lehenga! Also, if you have a basic simple red lehenga, pair it up with a heavy embroidery dupatta to make it all surreal. Don't live an ordinary life when all you can add is a stunning red lehenga to brighten up your day. As a Bride, all you have to do is sit dolled up with a picture-perfect smile and see the magic it creates!
#4 - SPREADING THE HALDI VIBES
Twirl and swirl your way out into people's hearts in this exquisite radiant yellow lehenga with a lovely embroidered overcoat and a sheer embroidered dupatta, which is simply more comfortable and would be the stunning outfit for this Haldi ceremony. Let the whole look speak up for itself by adding jhumkas and a picture-perfect smile to slay the day! 
#5 - RECEPTION
Receptions are the showstopper to that nuptials week. As we all desire to keep our ensemble minimal and excellent while confronting the people on stage or engaging with all the guests, this beautiful steel gray lehenga for reception is an incredible idea for your bridal outfit. A steel gray lehenga for the reception will give you the necessary lookout for grandness you need without letting it overwhelm your beauty! Wish to own one for your reception! Pick this beautiful shade of lehenga and slay the look!
Lehengas are the new upbeat ethnic fashion trend for millennials and gen-z. So what are you waiting for! If you are clueless about what type of lehenga to adore, pick from our top 5 IN-HOUSE-CURATED LEHENGAS FOR BRIDAL SOIREE and dazzle on the most beautiful day of your life. Your wedding wardrobe is one of the most important decisions you'll make if you're tying the knot soon, so be sure to plan it out perfectly. We hope these lehengas will be your greatest style companions.